This year's Factories of the Future Community Days took place on 22 & 23 May 2019 in Brussels and, besides brokerage sessions for the upcoming FoF 2020 calls, the event proposed different parallel sessions focussing on the project results, demonstrators and their impact, covering a broad spectrum of technologies and applications.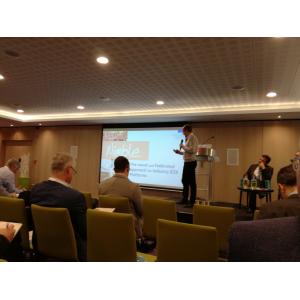 Within the parallel session of the ConnectedFactories project (https://www.connectedfactories.eu), NIMBLE presented an overview of its main value propositions and reported first results from its four demonstrators: Furniture Manufacturing, Textile, White-Goods and Wooden Houses vertical platforms. It has been highlighted the adoption strategies for all these platforms and current state of development of such strategies.
The target audience was made of about 80 persons, most of them coming from industry sectors, interested to exploit available results from the presented projects, as well as looking for partnership for future new collaborations.