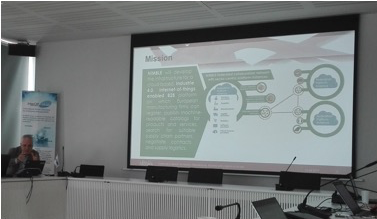 INNOVA has presented the NIMBLE project at the INTEROP-VLAB General Assembly 2017, which took place 13-16 of June, 2017 in Brussels, Belgium
INTEROP-VLab, the European Virtual Laboratory for Enterprise Interoperability (I-VLab, http://interop-vlab.eu), is an initiative to develop networked research with critical mass in the Enterprise Interoperability (EI) domain and associated domains (Future Internet and Enterprise Systems Applications).
The main objective of this dissemination action has been to create awareness about the NIMBLE project.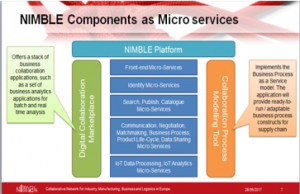 Slides explaining the scope, benefits and use cases of NIMBLE were presented, and the audience showed a deep interest concerning the whole concept and implementation of the project. A number of question were asked, especially concerning the recruitment of users for the platform and the implementation of the expected impact.
At the conference were present representatives from 10 organizations, including universities, technological centres and research institutes from 6 European countries.