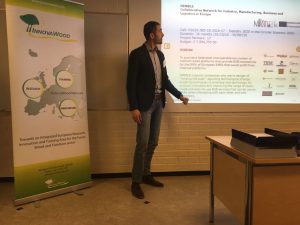 AIDIMME has presented the NIMBLE project at the INNOVAWOOD General Assembly 2017, which took place 28-30 of March, 2017 in Tuusula, Finland (Website: http://www.innovawood.com/).
The main objective of this dissemination action has been to create awareness about the NIMBLE project through a brief general description of the project. Slides explaining the scope, benefits and use cases of NIMBLE were presented. Furthermore, a poster of NIMBLE was printed and located in Exhibition area.
At the conference were present representatives from 23 organizations, including universities, technological centres and research institutes from 16 European countries.