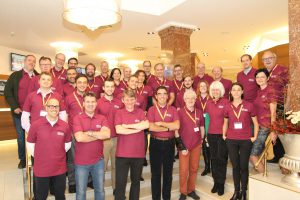 The project kick-off meeting took place at the Pitter Event Center in Salzburg from 11-13 October 2016. The representatives of the 17 partner organisations collaborating in the project were present at the kick-off, gathering 30+ researchers.
Day 1 of the meeting was about getting to know each other and discussing the main objectives and concepts of the project. We prepared in advance personal presentations of the members of the project team, and to keep our attention levels high, the personal presentations were done in random order. This  revealed that apart from research and technical skills, the majority of the project collaborators are outdoor persons, enjoying hiking, biking, feeding hedgehogs, etc.
In Session 2 Wernher Behrendt, project coordinator, explained the main vision and the objectives of NIMBLE. Sessions 3-6 presented the industrial use cases: white goods (Whirlpool and Holonix), eco houses (Lindbäck and Blatraden), textile manufacturing (Piacenza and Domina), and child care furniture (Micuna and AIDIMME).
Day 2 started with the methodology for requirements capturing, and continued discussing opportunities for dissemination and adoption. We then presented the project's collaborative platform to be used for  communication and exchange of documents and information between the partners. Then followed sessions concerning the administrative tasks and the NIMBLE work plan for the first year.
Day 3 gave the technical perspectives of the planned project development in the Year 1, through presentations of the NIMBLE technical specification (work package 2), the NIMBLE core platform development (work package 3) and NIMBLE cybersecurity perspectives (work package 6). The meeting was closed with a discussion of the anticipated technical issues and challenges ahead.
We are looking forward to working together on NIMBLE.